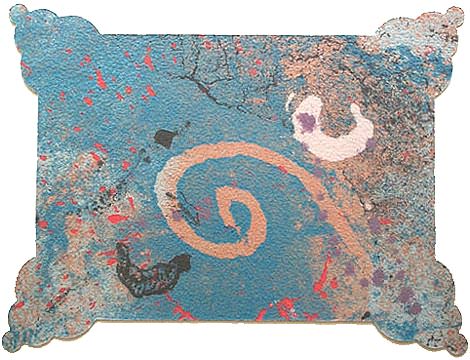 Sarasota, Florida/ Barcelona, Spain
Laurence Barker was head of the printmaking department at Cranbrook Academy of Art in Bloomfield Hills, Michigan from 1960 to 1970. He cites as a "key moment" in his life, when in 1962, a student gave him a piece of Douglass Howell's handmade paper. Barker recalled, "This wrinkled, semi-translucent paper discreetly proclaimed a life of its own." Barker attended (as the sole student) a two-week seminar at Howell's Long Island home and mill that summer. Upon returning to Cranbrook, Barker assembled the necessary equipment to establish a fine arts papermill, which opened in January 1963 as the first university-based papermaking program in America. Barker's program at Cranbrook ultimately served as the breeding ground for some of America's leading papermakers, including Walter Hamady of Perishable Press, John Koller of HMP Papers in Connecticut, Aris Koutroulis (who, in turn, taught Kathryn Clark of Twinrocker Papers), Winifred Lutz, and Roland Poska of Fishy Whale Press.
An eloquent apologist for the history and artistic potential of the handmade paper medium, Barker wrote that it is "precisely in the hyphen between support and medium, where ground becomes figure, that much untapped poetry resides, acting paper that is in turn acted upon….Like a rheostat, paper can be easily dialed down, as it were, to the near-zero assertiveness of pure support –i.e., sheets that are white, smooth, and square – as it can be cranked up through stages to an intensity of activity that is pure medium." His own artwork explores the full "rheostat" of paper possibilities, from custom handmade papers for printmaking to wet-sculpted, distressed and folded sheets with embedded materials, intaglio printing and hand-drawn crayon marks. For many years now he has been making shaped, perforated pulp paintings, which through their perforations, introduce a form of shadow play. As regards printmaking, Barker writes that "what I like so much is that after all the layers of pulp have been applied, the paper is just as absorbent as a blank sheet and equally receptive to printing ink. Its the combination of painting and printing that greatly appeals to me."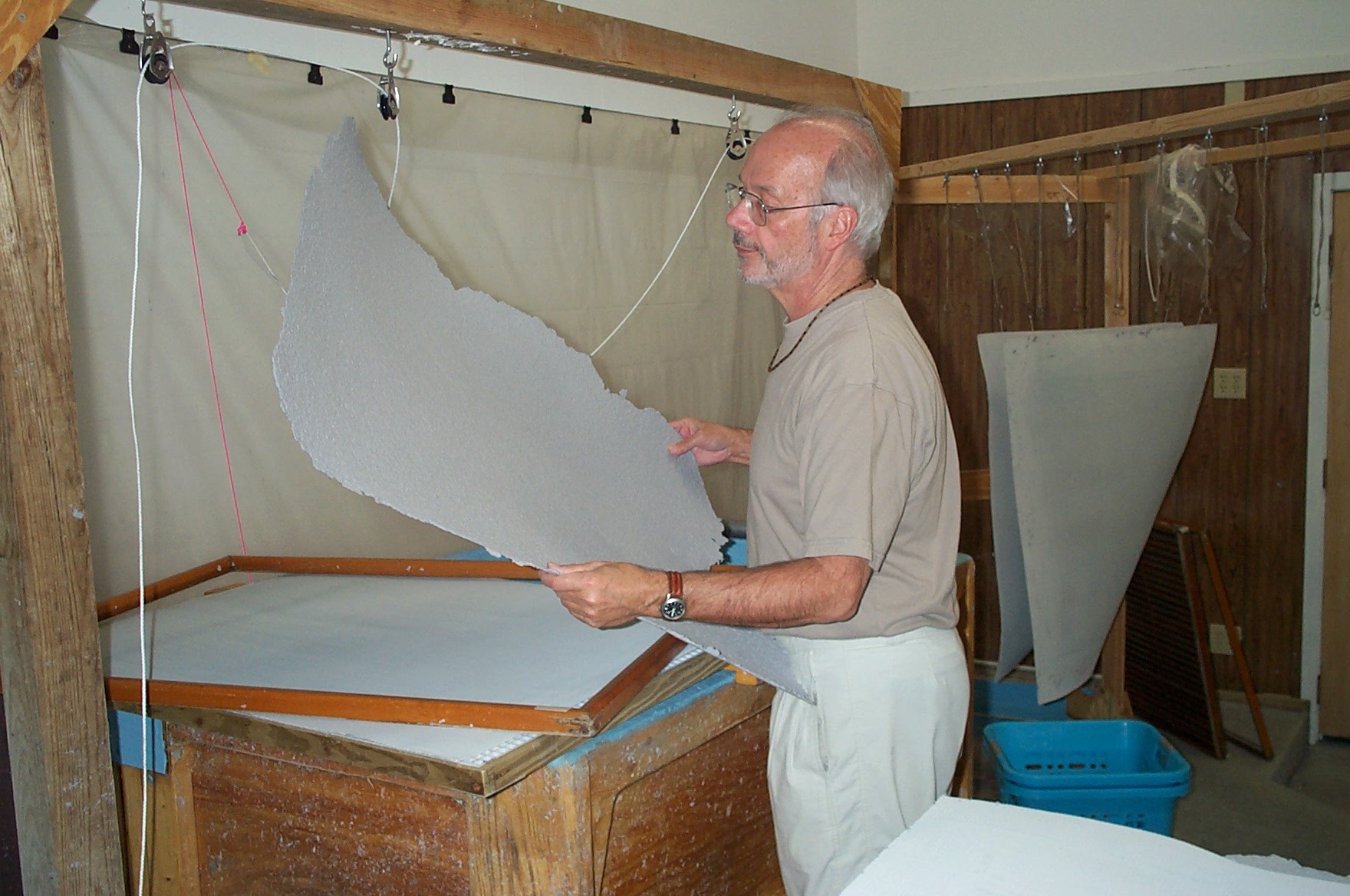 In 1970, Barker moved to Barcelona, Spain – a region long associated with papermaking – and installed his studio and paper mill there. He headed the Smithsonian Institute Print Workshop in Barcelona in 1972, and in 1979-80, was visiting artist at the Cleveland Institute of Art. Barker was instrumental in establishing the Barcelona Paper Workshop in 1980. He has split his time between Spain and Sarasota, Florida since 1995. In addition to pursuing his own work in print and paper media, Barker has made paper for artists Roy Lichtenstein, Robert Rauschenberg, Jasper Johns, Joan Miró, Mark Tobey, Antonio Tapiés, Eduardo Chillida, David Hockney, Kenneth Noland and others.
Personal Data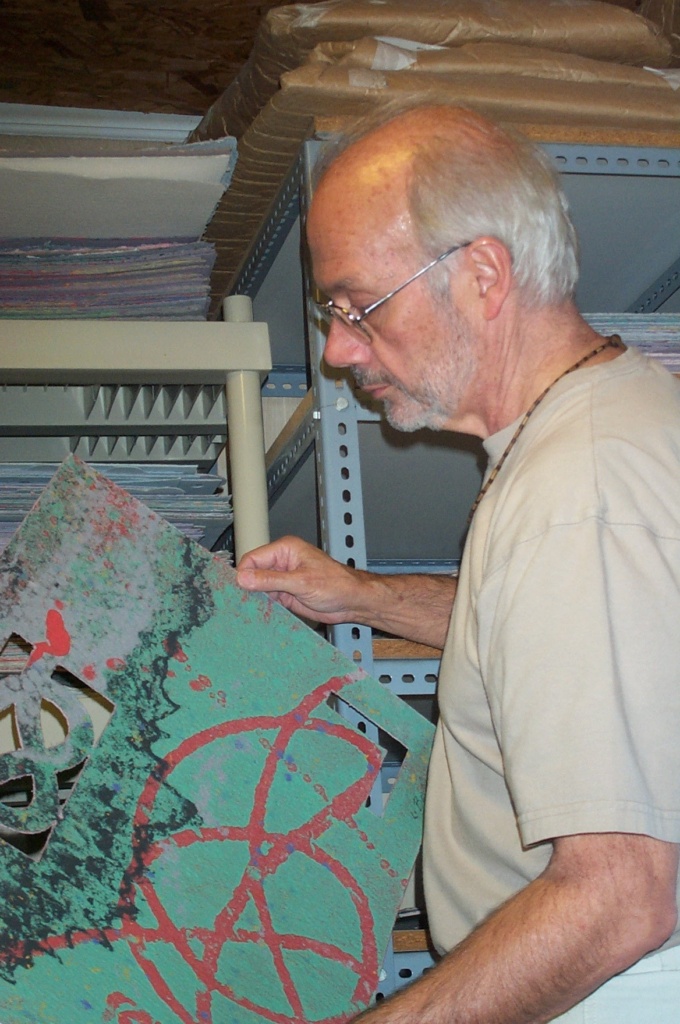 1930 Born November 20, Houston, Texas
1948-50 Attended Principia College, Elsah, Illinois
1951-53 Served in the United States Air Force
1954 Received B.A. degree from Principia College
1955 Received Master of Fine Arts degree from Cranbrook Academy of Art, Bloomfield Hills, Michigan
1956 Studied with Stanley William Hayter in Atelier 17, Paris
1957-60 Instructor, Art Department, Miami University, Oxford, Ohio
1960-70 Head of Printmaking Department, Cranbrook Academy of Art
1962 Studied hand papermaking with Douglass M. Howell in Westbury, Long Island, New York
1963 Installation of first university fine arts paper mill in the United States at Cranbrook Academy of Art.
1970 Moved to Barcelona and installed studio/paper mill
1972 Headed Smithsonian Institute Print Workshop, Barcelona
1979-80 Visiting Artist at Cleveland Institute of Art
1980 Establishment of Barcelona Paper Workshop
1995 Moved studio to Sarasota, FL
2023 ThinkINK, PrintHouston members exhibition, Houston, TX
Individual Exhibitions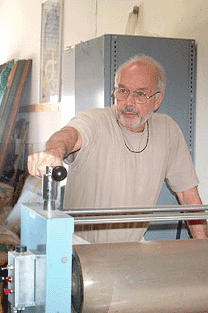 1973 Galería Nova Gráfica, Barcelona
1973 Galería Es Portal, Cadaqués, Spain
1973 Galería Gari de Sentmenat, Palamós, Spain
1974 Gallery 22, Bloomfield Hills, MI
1975 Galería Skira, Madrid
1977 Upstairs Gallery, Southampton, NY
1980 Sala Tiempo, Barcelona
1984 Edinburgh College of Art – Traveling Exhibition
1987 Galerie G, Helsingborg, Sweden
1989 Galerie Monells, Helsingborg, Sweden
2000 Dieu Donne Papermill, New York, NY
2008 Ellen Noel Art Museum, Odessa, Texas
Group Exhibitions
1980 Faculty Exhibition, Cleveland Institute of Art
Handmade Paper Symposium, Edinburgh College of Art
1982 First Invitational Exhibition, Pyramid Prints and Paper Workshop, Baltimore
"Making Paper," American Craft Museum, New York City
DuBose Galleries, Houston
1983 "Paper as Image," An Arts Council of Great Britain Touring Exhibition
"Update: Cranbrook, A Survey Exhibition 1925-1983", Robert L. Kidd Associates Gallery, Birmingham, Michigan
1984 "Paper Transformed," A National Exhibition of Paper Art, Indiana State University, Terra Haute National Paper Invitational
"Surfaces and Structures," Birmingham-Bloomfield Art Association, Birmingham, Michigan
1985 "Papper Konstverk, Papper Hantverk," Grafikfestival, Liljevalchs Konsthall, Sweden
1986/1988 "Internationale Biennale der Papierkunst," Leopold-Hoesch Museum, Düren, Germany
1989 "Mini-Exhibition," Ibaraki-Ren, Japan
"Second Summer Invitational," Santa Fe Community College, Gainesville, Florida
1992 "New Editions 1992," Alice Simsar Gallery, Ann Arbor, Michigan
1993 "Selectie Monotypes uit het Frans Masereel Centrum 1989-1993,"Kasterlee, Belgium
1998 Papel '98, Bienal Latinoamericana de Arte con Papel en el Centro Cultural Recoleta, Buenos Aires, Argentina
2000 "Paper Trail," Douglass Howell and Four Pioneers in American Handmade Paper: Laurence Barker, Walter Hamady, Clinton Hill, Golda Lewis, Rutgers University, New Brunswick, New Jersey
2004 MAJDANEK VII International Art Triennale, Lublin, Poland
Statutory Award of the Ministry of Culture
2005 "DE LA LINEA A LA MATERIA" Universitat Politécnica de Valencia
2009 "1:100,000 Mapping the Island", Hobart, Tasmania
Public Collections
Bibliotheque Nationale
Library of Congress, Washington, D.C.
Brooklyn Museum
Dayton Art Institute
Cincinnati Art Museum
Chicago Art Institute
Detroit Institute of Art
Smithsonian Institute, Washington D.C.
Biblioteca Nacional, Madrid
Cleveland Museum of Art
Lectures and Paper Workshops
1983 Ruskin School of Art, Oxford University
Wimbledon School of Art
City Literary Institute, London
Kingston Polytechnic, London
1985 Escuela Superior de Bellas Artes de la Nación "Ernesto de la Cárcova," Buenos Aires
Concordia College, Montreal
State University of New York, Albany
1987 United States Information Agency sponsored tour of paper workshops/lectures in Paraguay, Uruguay and Argentina
"Papermanifestation," Jan van Eyck Akademy, Maastricht
1989 Santa Fe Community College, Gainesville, Florida
1990 York University, Toronto
Concordia College, Montreal
University of Iowa, Iowa City
University of Illinois, Urbana
University of Michigan, Ann Arbor
California State University at Fullerton
1999 Instituto de Artes Gráficas de Oaxaca, Mexico
2001 Escuela de Arte y Oficios, Zaragoza, Spain
Tallers Art – Paper, Museu Molí Paperer de Capellades, Spain
2003 Fundació Pilar i Joan Miró, Mallorca, Spain
2007 Friends of Dard Hunter, Washington, D.C.
Published Reference Material
"The Revolution in Paper," a special section in American Artist, vol. 41, no. 421 (August 1977), pp. 33-49
"New Ways with Paper," Janet A. Flint, Curator, Department of Prints and Drawings, National Collection of Fine Arts, Smithsonian Institution, 1978
"Papermaking," Jules Heller, Watson-Cuptill, 1978
"Papermaking in Spain (and America)," Print News, vol. 2, no. 3, June/July 1980, pp. 2-6
"Making Paper," American Craft Museum, 1982
"Paper as Image," Arts Council of Great Britain, 1983
"Laurence Barker – Barcelona Paper Workshop," Artist Newsletter, pp. v-vi of Special Papermaking Supplement, November 1983
Words on Paper, Num. 15, Summer 1988, Newsletter of Papermakers in Australia
"Interview with Laurence Barker," John Gerard, Hand Papermaking, Summer Issue 1988
"El Papel del Papel en el Arte," Ricardo Alberto Crivelli, Buenos Aires, Argentina 1988
"Reflections on Paper, Prints and Recent Work," Laurence Barker, Arte Grafika, Sept./Oct./Nov. 1989, pp.18-24
"A Journey from Westbury to Chillicothe," Laurence Barker, Hand Papermaking, vol. 12 Number 1, Summer Issue 1997, pp. 3-8
"Paper Trails, Douglass Howell, and How Paper Won Its Way Into Western Art"
by Andrea Swanson Honoré (catalogue of Rutger's University art exhibit Paper Trail – Douglass Howell and Four Pioneers in American Handmade Paper: Laurence Barker, Walter Hamady, Clinton Hill, Golda Lewis, 2000)
"I Dreamt I Schlepped Paper in My Summer Pajamas and Other Confessions," Laurence Barker, Dieú Donné Pulp, January through March 2001